A popular city in Silicon Valley,
Redwood City
is known for its friendly atmosphere, gorgeous climate, vibrant downtown area, and the oldest (and largest)
4th of July
parade in Northern California running consecutively since 1939. Located just 25 miles from San Francisco and 27 from San Jose, Redwood City is popular with commuters who want to further their tech careers in the metro area but prefer a more laid-back, tranquil lifestyle in
elegant homes
.
Those who live in Redwood City luxury homes have the option of driving a short distance to dining at world-class restaurants in San Francisco, like
Michelin-starred Atelier Crenn
, or at San Jose standouts like
Adega
(also the recipient of a Michelin star). However, many Redwood City residents choose to dine right in their own hometown, as there are plenty of wonderful options for breakfast, lunch, and dinner, especially if you want to enjoy the phenomenal weather while you eat outdoors. Here are some of the best outdoor dining experiences in the area.

With outdoor dining options on the front or back patio (as well as indoors), Vesta is a hotspot for pizza-lovers — especially when the sun is shining and the weather is pleasant. The owners of Vesta love how food can bring the community together, and they focus on using sustainable, local ingredients to create pizzas and other menu items that are shareable and that support the environment.

From small plates like pork meatballs and pork shoulder to both traditional and unique pizzas (the "Prosciutto & Pineapple" and "Sausage & Honey" are both popular choices), the food at Vesta is hearty and often surprising. If you're in the mood for pizza, Vesta has got you covered with over twenty different menu options from red and white pies to vegan pizzas and featured specialty pizzas. Finally, to enhance your outdoor dining experience, order a "Hazy Mosaic IPA" from San Diego brewery Orderville or a refreshing glass of prosecco.

A winner of OpenTable's Diners' Choice Award for 2022, Timber & Salt is the perfect place to grab a craft cocktail and enjoy some Cali cuisine, all while lounging on a relaxing patio. Open for dinner at 5 p.m., this restaurant offers a wide array of upscale bistro food that brings in hungry owners of Redwood City real estate as well as visitors to the area.

Starters include crispy Brussels sprouts, buffalo cauliflower, and smoked pork belly bao buns. If you're up for some leafy greens, check out the "Little Gem Caesar Salad" or "Shaking Beef Salad." The menu also features main courses ranging from eggplant fried rice to creole-spiced salmon and housemade potato gnocchi. Finally, if you want a drink to go with your meal, look no further. Timber & Salt offers craft cocktails galore (the "Weaponized Swordfish" and "3 Blind Assassins" are standouts), wines by the glass and bottle, draft beers, and a large spirits list.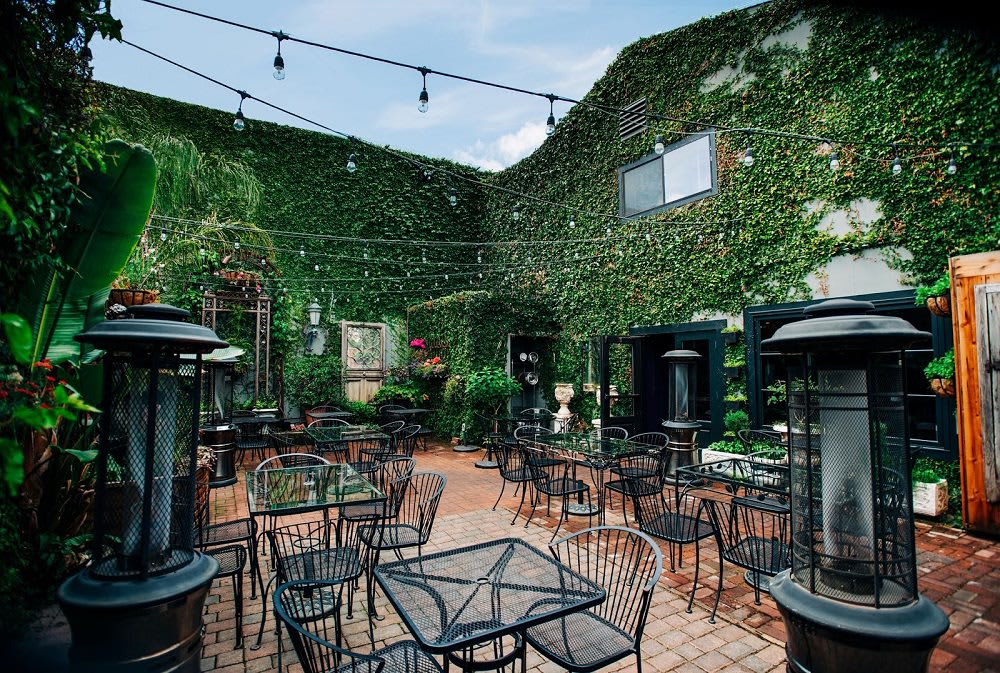 Photo courtesy of Yelp
If a California vibe with a Latin flair sounds like your idea of dining heaven, then you need to make plans to eat at family-owned Angelicas. Though their indoor dining offers a fun, vibrant atmosphere, there's nothing like relaxing on their secluded patio with a margarita or glass of mezcal. Angelicas is open for breakfast, lunch, and dinner and offers unique menu options with beautiful plating for all three meals. For breakfast, try the smoked salmon crepes or vegan chilaquiles. Lunch options include ahi tuna Crudo and stuffed bell peppers, while dinner might be a feast of anything from drunken clams and mussels to duck mole, grilled lamb chops, and crispy potato taquitos.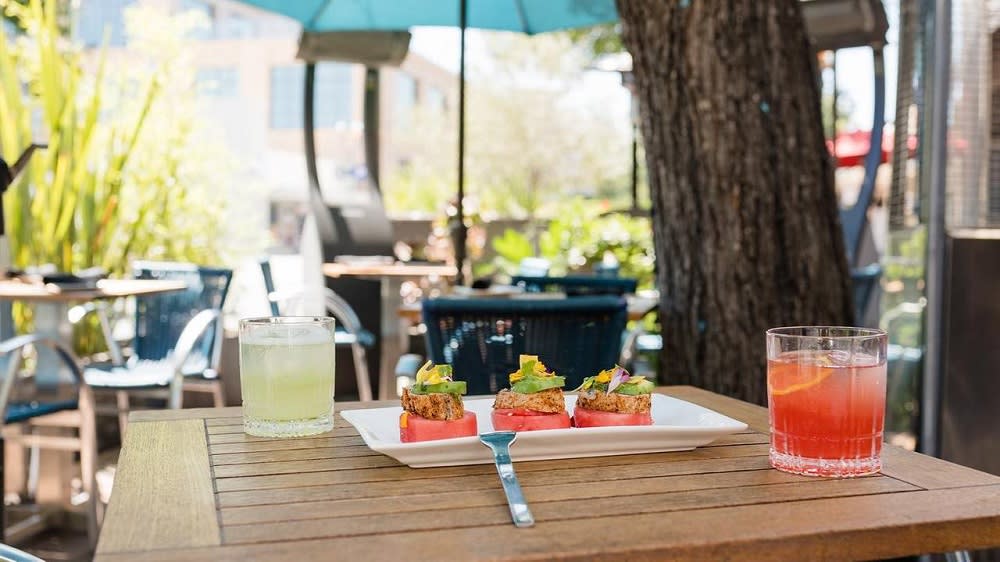 Photo courtesy of OpenTable
With a goal of creating a dining experience that combines sociability, tranquility, and culinary exploration, LV Mar Tapas & Cocktails is known for its warm hospitality and sophisticated atmosphere. Though you're bound to have a lot of fun inside — especially if you come during one of their frequent parties — you can enjoy a more chill environment if you opt for outdoor seating.

If you happen to be in the area in the afternoon, stop by for happy hour for small bites like guac and chips, crispy French fries with diabla sauce, and halibut ceviche as well as $2 off all menu drinks. If you can't make it for happy hour, no worries! You can enjoy tapas like seasonal oysters, tacos, and pork or shrimp meatballs all day long. If you prefer to come in for brunch, check out the bottomless mimosas along with chilaquiles, huevos rancheros, or crispy waffles with strawberries, syrup, and mezcal cream. As for cocktails, you simply can't beat their Palomas, margaritas, or a craft concoction like the "El Alcatras" (gin, Cocchi americano, Frangelico, egg white, lemon, and nutmeg).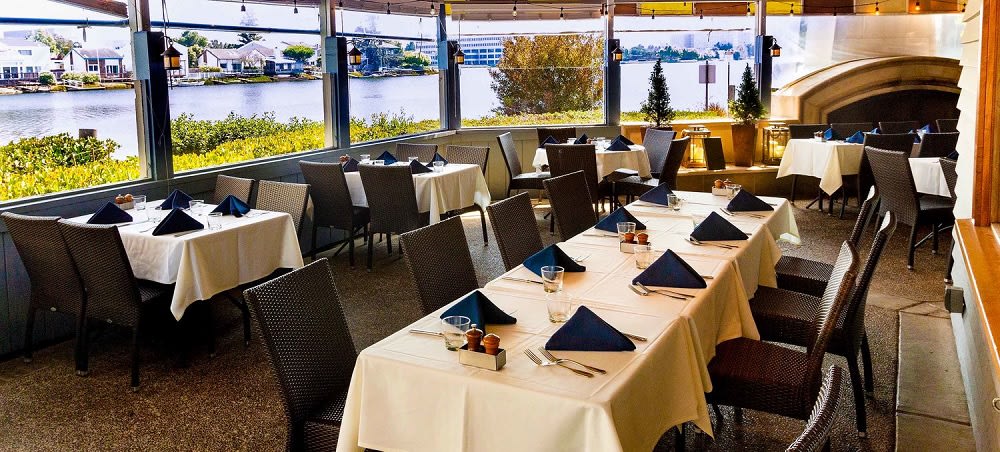 Photo courtesy of Mistral Restaurant
Noted for its fully-covered, heated patio situated right on the San Francisco Bay, Mistral is a local favorite for outdoor dining, perfect for business events, small wedding receptions, banquets, and other elegant outings. Enjoy Mediterranean-inspired New American cuisine while looking out over the water and sipping on a glass of Italian prosecco or Aged Rye Manhattan. Nibble on a "Mediterranean Mezze Sampler" (falafel, hummus, and baba ghanoush served with mixed olives, feta, and flatbread) or mussels in cream sauce, or fill up on the Mistral seafood paella or wild mushroom ravioli.
A go-to for owners of Redwood City luxury homes who want to enjoy a healthy meal, West Park Farm & Sea serves wholesome meals made of organic herbs, wild fish, and house-made sauces to create simple yet memorable dishes like salmon wraps, grilled seafood bowls, and "Wild Rocket Salad" with grilled skirt steak. Add a unique side like marinated beets, eggplant mezze, or roasted cauliflower with curry aioli to round out your meal. Make sure to save room for dessert, because the chocolate beignets and baklava are not to be missed. West Park Farm & Sea also has a nice outdoor patio where you can enjoy your fresh food in the open air.
If you plan to be in the area to start looking at Redwood City real estate, Be sure to take in the exceptional weather and delicious cuisine by dining at one of the restaurants on this list with wonderful outdoor seating options. When you're ready to take the next steps in your
real estate search
, reach out to trusted local real estate agent
Stephanie Nash
for guidance. As a life-long resident of the San Francisco Bay area, Stephanie has the expertise, connections, and experience to help you find your next dream house.

*Header photo courtesy of Food Fire + Knives