Woodside is a town where about 5,300 people reside over twelve square miles. Located approximately 30 miles south of San Francisco,
Woodside proper
was incorporated in 1956, although the city had been settled since the late 1800s. In 1909, a private men's club called "The Family" was established on grounds with camping facilities as a rural recreation retreat for wealthy club members.

By 1912, "The Family" had built Our Lady of the Wayside, a Catholic church in the Mission Revival style designed by a 19-year-old architect named Timothy L. Pflueger. Our Lady stands today despite having sustained significant damage from the 1989 Loma Prieta earthquake. In the decades following his beginnings in Woodside, Pflueger designed many of the most recognizable skyscrapers and period movie theaters in San Francisco and surrounding cities.

Woodside homes typically sell for a median price of about $5 million. In step with the entire state of California, Woodside is experiencing a strong seller's market, a trend that occurs when there are more buyers in search of Woodside real estate than there are Woodside homes available for sale.

If you're searching for a new home in this beautiful neighborhood, take a day to explore a few of the beautiful wineries in and around town — you won't regret it!
Tank Garage Winery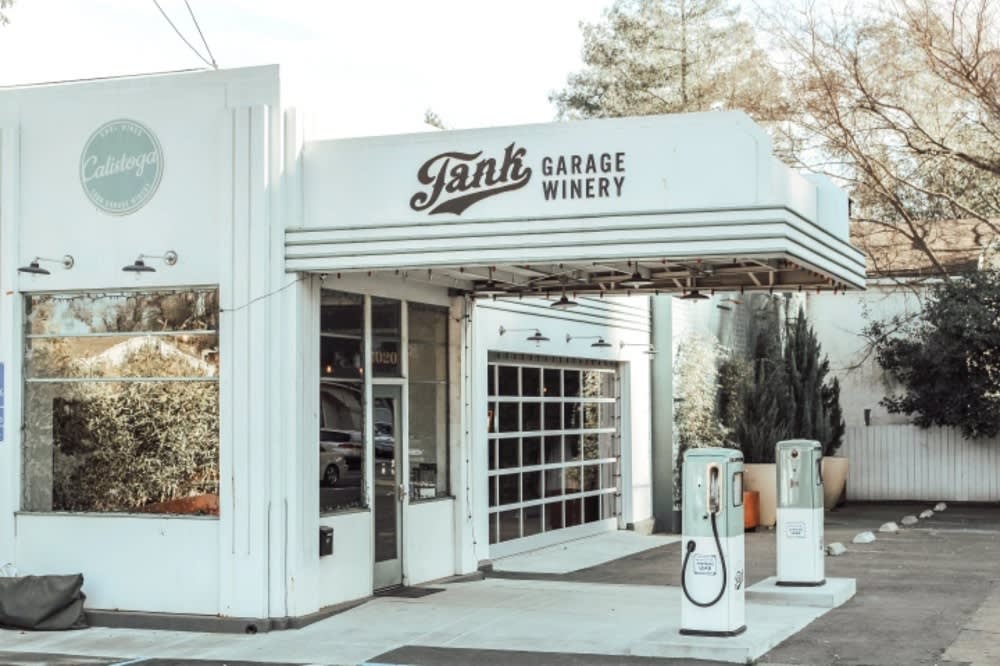 Photo courtesy of The Brunching Mama
The
Tank Garage Winery
is located in Calistoga, about 100 miles from Woodside. To Californians,100 miles is nothing, barely enough time for a favorite podcast! The road linking Woodside and Calistoga passes through lush valleys with fantastic scenery, making the views worth the trip alone.

The Tank Garage Winery hosts the self-dubbed "Napa Valley's Coolest Wine Tasting," a party advertised as punk-rock inspired — a stark contrast to traditional wine-tasting experiences. The winery is positioned inside a vintage service station. Guests are invited to mingle with the winery crew and have a good time listening to great music while enjoying excellent vintages in a unique setting. The tasting menu changes with the seasons and generally includes white wines, red wines, rosé, pét-nat, and natural wines. Tank Garage also offers wine lovers the "MADE Club," a wine club whose members access rare wines delivered right to their doorstep or made available via pickup at the venue. MADE members also receive complimentary tastings and discounted pricing.
Thomas Fogarty Winery
Located in Woodside, the
Thomas Fogarty Winery
offers a variety of wine tastings for up to 12 guests each. The winery's outdoor wine tastings serve guests a selection of five wines at an outdoor table. The $35 fee is waived for every $100 of wine or products purchased. The tastings last 90 minutes. For indoor wine tastings, no food is permitted.

The indoor tastings take place at a standing-room-only tasting bar and, as with the outdoor wine tasting, serves a selection of five wines with the same fees and waivers. There is also an estate tour with a wine tasting that costs $55; you also can get a wine tasting with wood-fired pizza and small bites for the same price. The winery also offers a wine club, where members can indulge in first-come new releases, volume discounts, vineyard tours, and complimentary wine tastings.
Chaine d'Or Vineyard
The Woodside-based
Chaine d'Or vineyard
is a small, family-owned, 35-year-old vineyard that crafts wine "for local people and the occasional visitor who happens to find us." Tastings and tours are by appointment only. The 2016 Estate Cabernet Sauvignon is aged for 18 months in French oak and carries a light-to-medium-bodied flavor with hints of fruit, green olive, and a light toast. This 2016 Estate Chardonnay is a bright, clean Chardonnay with notes of crisp apple with firm acidity and a warm finish.
Cinnabar Winery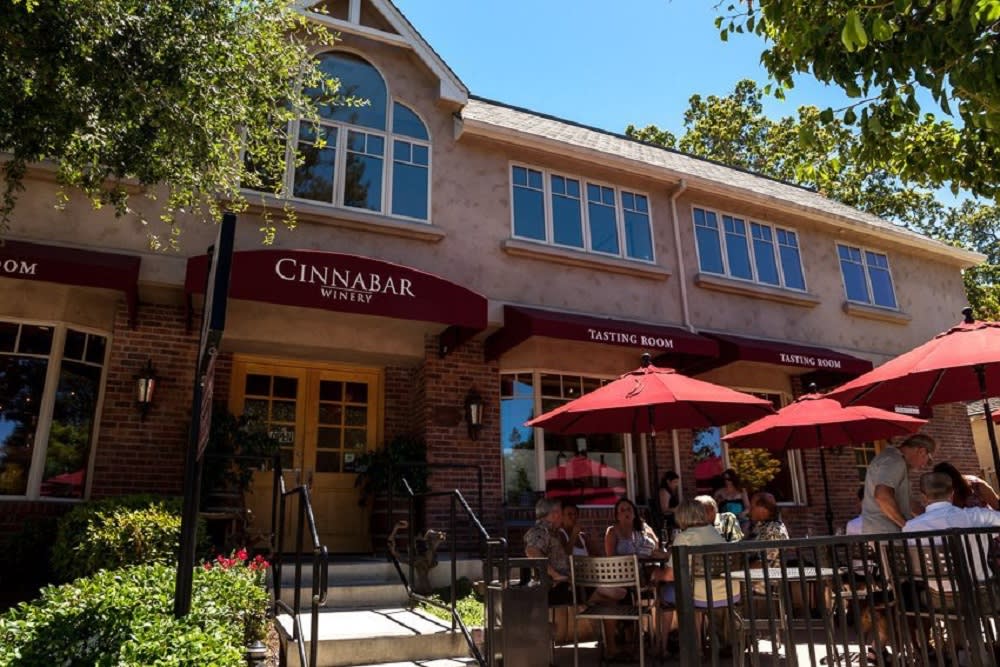 The
Cinnabar Winery
is located about 19 miles southeast of Woodside in Saratoga and will celebrate its 40th year of operations in 2023. The tasting room is open Wednesdays through Sundays from noon to 6:00 p.m. for walk-in guests, pick-up orders, and patio seating.

Wine selections include everything from Pinot Noir to Chardonnay and Cabernet to Zinfandel, Malbec, and Syrah, to name a few. Tastings serve wine by the glass or by the bottle, and the tasting menu changes every month, so be sure to call ahead to verify what will be available when you plan to visit. While no outside food is allowed, guests are welcome to purchase olives, crackers, artisanal cheeses, charcuterie, and non-alcoholic beverages.
Big Basin Vineyards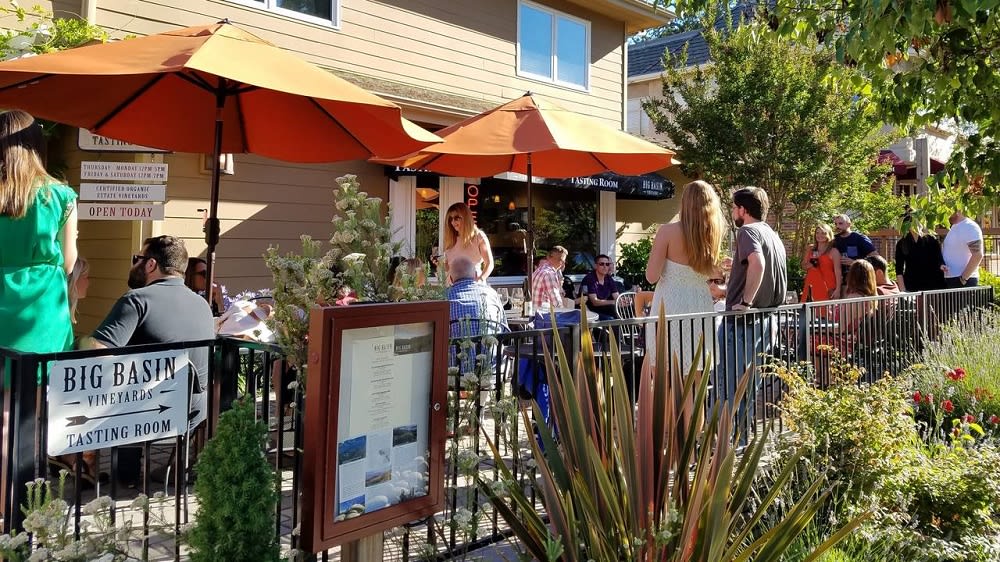 Big Basin Vineyards
is also located in Saratoga. Its vines are organically farmed and have grown on the property for more than a century. Guests are invited to bring their own picnics to the vineyard's wine tastings, which run every Friday from 5:30 p.m. to 9:30 p.m. from May through October.

The vineyard offers a unique "After Hours with Big Basin" service that's described as an exclusively curated selection of wines paired with decadent chocolate truffles from a specialty area chocolatier called Mutari.An expert pour specialist accompanies the delivery of the winery's wines to educate guests about the winemaking process. Each guest receives six chocolates — with dairy-free options available — and a wine pairing of six wines per guest. The pour specialist narrates the experience and shares insider information about wine vintages, the vineyard and its history, and "stories from the cellar" to add to the overall wine/chocolate tasting experience. Yours will indeed be a night to remember.
Local realtors like
Stephanie Nash
are experts in Woodside real estate and are eager to help you find your dream home amongst Woodside homes for sale. Contact Stephanie today to get started!